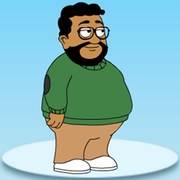 Head of the Obed family, he had recently moved to Grasmere Valley from Saudi Arabia. He had been converted from Islam to Christianity by the previous pastor of Gracefield Church, Jeffry King and his family soon converted afterwards.
He is married to Dina Obed, and has three children Akin Obed, Benin Obed, Myrrhine Obed.
Early Life
Edit
Write the first section of your page here.
The Tales of Grasmere Valley Novels
Edit
Volume 1
Edit
Volume 2
Edit
While settling in to Grasmere Valley they are chased down by Gangster Pedro under orders from his own parents in order to kill them for converting.
Volume 6
Edit